Press Release: Quebec's Largest Cleantech Award for Non-Profits & Startups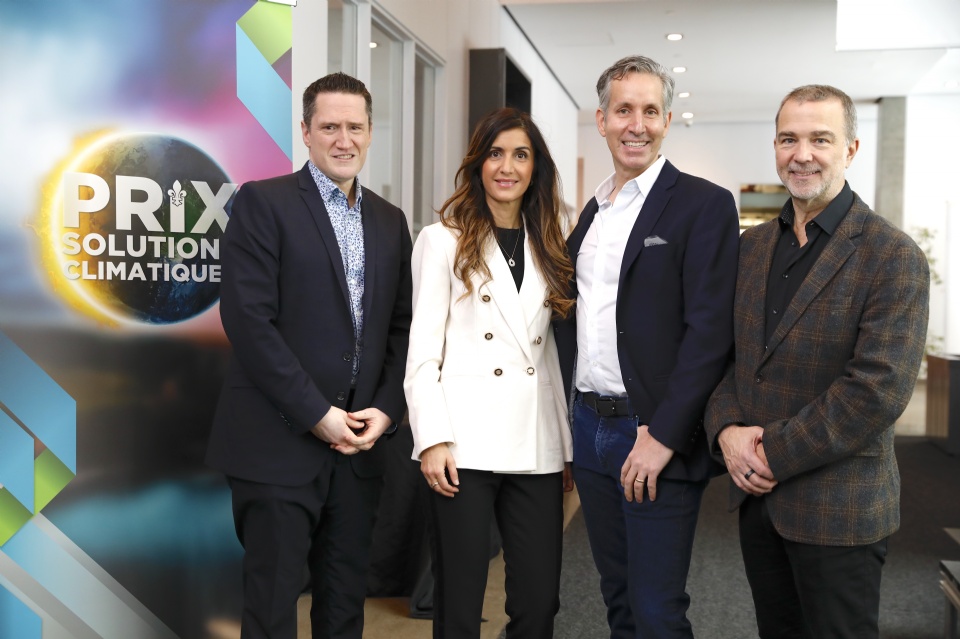 Montreal, QC, January 30, 2023 – The Climate Solutions Prize today announced the first edition of the largest climate incentive prize in Quebec history.
The Climate Solutions Prize – Quebec is composed of two tracks – the Breakthrough Research prize for non-profits, and the Startups prize – totalling more than $250,000. Benoit Charette, Quebec's Minister of Environment, the Fight Against Climate Change, Wildlife and Parks, says this trailblazing initiative will support the development of Cleantech entrepreneurship and galvanize Quebec's place on the world stage when it comes to the issues stemming from climate change.
"The Quebec government is proud to support the Climate Solutions Prize – Québec which seeks to draw from Quebec's rich basin of talent and innovation. By providing this opportunity, the Climate Solutions Prize is helping to showcase the important role of Quebec's burgeoning Greentech ecosystem when it comes to finding solutions for global challenges," said Minister Charette.
"We are proud to spearhead this concept and are incredibly pleased with the strong support from our partners in government, industry, and academia to make this a game-changing initiative," said Jeff Hart, Executive Chair of the Climate Solutions Prize. Other partners of The Climate Solutions Prize – Quebec and the Climate Solutions Festival – where winners will be announced on May 23-24, 2023 at the Grand Quay of the Port of Montreal – include JNF Canada, Cycle Momentum, StartUp Fest, 2 Degrés, and Esplanade.
Galith Levy, Chief Climate Solutions Prize Officer, added: "The world needs a diversity of solutions to reverse climate change, and we believe Quebec can be a world leader in this area. The Climate Solutions Prize can help accelerate the development of Quebec-made solutions that have a global impact."
The Climate Solutions Prize – Quebec is looking for groundbreaking solutions using innovation to tackle some of the most pressing global climate challenges which can be developed for practical use quickly including methods of:
Reducing greenhouse gas emissions;
Improving energy efficiency, renewable energy, and energy storage;
Developing carbon capturing capacity naturally or artificially.
The deadline for submissions has been extended to February 20, 2023.




Prize Purse #1: Breakthrough Research Track

The Climate Solutions Prize – Quebec Breakthrough Research Prize is a purse totalling $100,000 which shall be awarded to two non-profit organizations, thanks to the support of JNF Canada.

Submissions will be scored based on criteria including impact, innovation, development potential, cost-effectiveness, and the quality of the project submission.

Teams from the following eligible organizations are invited to submit their projects:
Quebec research institutions;
Quebec universities;
Non-profit institutes in Quebec such as hospitals, regional R&D centers, and environmental organizations which are registered as charities;
Non-profit 'incubators' affiliated with one or more of the above-mentioned organizations.
The first prize winner of the Breakthrough Research Prize will receive $60,000. The second prize winner will receive $40,000.




Prize Purse #2: Tapping into Quebec's Startup Culture

Managed by Cycle Momentum, the $100,000 Climate Solutions Prize for Quebec-based Cleantech Startups is possible thanks to the visionary support of partners and sponsors who believe a better future requires creative innovation.

The consequences of climate change require bold new ideas. As a leader in the fight against climate change, the Climate Solutions Prize is grateful for business partners including National Bank of Canada, Canderel, and Davies Ward Phillips & Vineberg.




New challenges and the opportunity to compete for additional prizes will be announced soon.




Complete details on eligibility, partners and sponsors, and how to participate can be found at www.climatesolutionsprize.com.




About the Climate Solutions Prize

Seeking to inspire breakthrough solutions to solve the climate crisis, over $2 million in prizes were awarded internationally in 2022. This year's Climate Solutions Prize – Quebec will grant more than $250,000 in prizes and investments to Quebec innovators at the Climate Solutions Festival in Montreal in May 2023. More than just a prize, the organization aims to provide a platform where key players in the ecosystem are brought together to propel innovations with high impact potential.




About Cycle Momentum

Cycle Momentum is an accelerator and open innovation platform that brings together an international collective of entrepreneurs, investors and innovators. Its mission is to find innovative solutions to the major ecological challenges facing humanity. Founded by Cycle Capital, Cycle Momentum provides entrepreneurs with training workshops, networking sessions and mentoring, and works with leading companies to stimulate technology acquisition and integration.




- 30 -




MEDIA INQUIRIES:

Tim Duboyce / Aurelie Saah Massy Forget Langlois Public Relations

C: 514 604-9282 tduboyce@mflrp.ca / asaah@mflrp.ca

>